1st Haikou-Israel Cooperation Symposium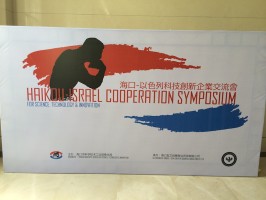 Unique 1 Asia concluded the 1st Haikou-Israel Cooperation Symposium which took place in Haikou City, Hainan Province on May 22nd, 2014.
The forum was organized by Haikou Science and Technology Bureau together with Unique 1 Asia.In the forum, the participants included provincial leaders from the foreign affairs, agriculture, asset management, commerce department and other key departments. From the Haikou government: Haikou science and technology bureau, Haikou technology parks, etc.
In the forum participated the vice president of Hainan University and 4 professors, 3 of them lived and studied in Israel. 2 out of the four are 2 deans of faculties- management and science and technology.
In the forum participated local industries from agriculture, pharma, IT, creative, technology, machinery and other company leaders took part.
This forum was the first in China as it was a brain storm and a dialogue between us and the different guests which suggested which are the right paths in which Haikou and Israel should cooperate.
Furthermore, both the provincial leaders, municipal leaders, local universities, and industries agreed to join hands to make this dream come true.
Some of our initial projects will include:
Academic- internships in Israeli companies in China, in Israel, students exchanges and professors exchanges. Hainan University Vice President and the Dean of the management faculty invited Unique 1 Asia's CEO, Mr. Yuval Golan to become an off-campus academic adviser in their institute. Furthermore, he was offered a full excellent scholarship in order to take part in the university's finance course for CEOs.
Delegations to Israel- the director of science and technology department summarized that different departments, companies, and academia should first visit Israel and then later invite Israeli partners after understanding what Israelis want and interested in.
Industry- several company cooperation opportunities.
Commerce- promotion of Hainan province in Israel and support youngsters.
Technology & Education- combine a learning center together with an incubator to create a testbed in order to develop future cooperations.
Smart participants, Excellent forum, and amazing results!
Details
Tags:
Client
1st Haikou-Israel Cooperation Symposium
VIEW PROJECTS