Governor of Hainan Calling Hainan's Leading Entrepreneurs for Insights on Development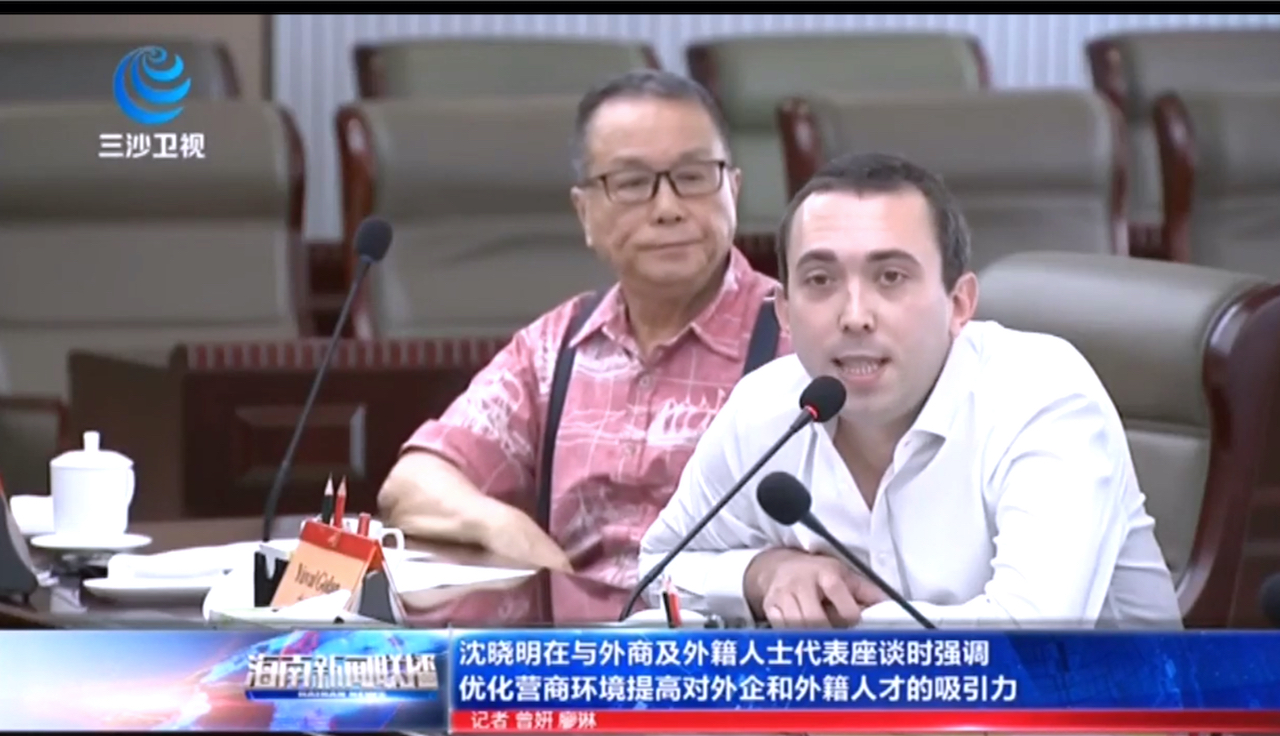 On July 6th 2018 Governor Shen Xiaoming led a provincial government leadership team to discuss with foreign businessmen and foreign nationals from seven countries including the United States, France, Germany, Britain, Ireland, Singapore, and Israel, and have face-to-face exchanges on optimizing the business environment in Hainan.

Chairman Golan, came up with the idea to hold this meeting and later was interviewed for Hainan Television about the initiative- click here to watch. 
During the meeting, the foreign representatives spoke successively, looking forward to building a free trade zone, free trade port and comprehensively deepening reform and opening up in Hainan. They suggested strategies to attract international talents, how to optimize online information services and to expanded international financial business.
Some of the main opinions and suggestions were put forward in the areas of training, promotion of medical standard, and travel convenience.

Governor Shen expressed gratitude to the participants and asked relevant departments to study the challenges and solutions presented by the attendees. Shen claimed said that Hainan 's internationalization level is low, and many public service facilities do not take into account the needs of foreigners. He appreciated the the fact that the guests suffered from many inconveniences in Hainan but choose to stay.
He emphasised that he hopes to gather and communicate with the entrepreneurs in the future.
The governor tasked The Foreign Affairs Office and the Civil Affairs Department to study the establishment of the Hainan International Entrepreneurship Association and build a communication platform for foreign enterprises in the province; the business department can establish a window to connect and serve foreign enterprises.

Shen Xiaoming said that to build a free trade zone and free trade port in Hainan, the level of internationalization needs to be further improved, and the support and participation of foreign companies and foreign talents are crucial.
Hainan will find ways to improve the service level for foreigners. Starting next year, the establishment of an international public service system will be included in the annual focus of the government's work plan.

The leadership will find ways to improve the business environment and increase its attractiveness to foreign companies. Furthermore, they seek to simplify processes and to create a more modern legal system following global standards, with, convenient, fair, efficient, transparent conditions, which will allow the foreign companies to profit and in return hire local labour, benefit the local economy and promote Hainan globally.