HNA Group & Bidflyer Signed a Strategic Cooperation Agreement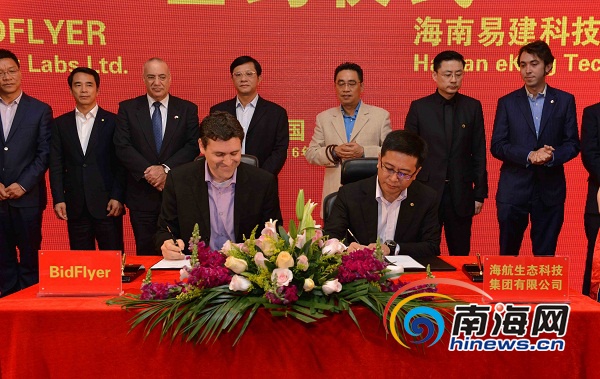 On March 29th HNA Group established its new subsidiary Group, HNA Ec0-Tech. The group's new answer to the world's and China's advanced technological requirements and they put on their agenda that within 5 years they will become a global leader.During the opening ceremony, HNA signed with the first Israeli company a strategic cooperation agreement.

In this agreement, BidFlyer will provide HNA's 20+ airline website its innovative technology which will provide passengers with Asia flight tickets for competitive pricing offered by real-time auctions.

Read more here: click here.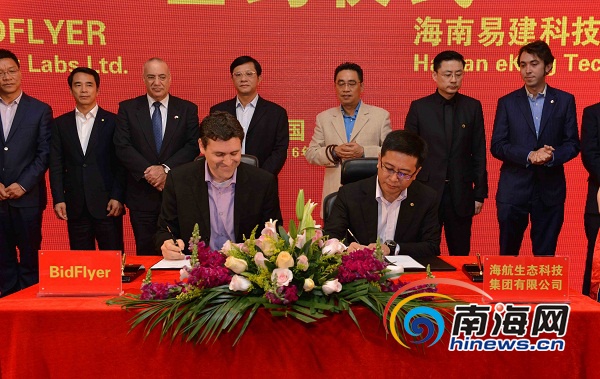 (Foreground L to R) Asaf Gendler, CEO of Israeli start-up Bidflyer, signs a partnership agreement with Kevin Yu, COO of Hainan Eco-Tech Group (Courtesy)

(Background L to R): Li XianHua, executive Chairman of the Board of HNA Group, Yaacov Avrahamy, Consul General of Israel to South China, Han Yong, Director of Hainan Provincial Science and Technology Department, Wang Jian, Chairman of the Board of HNA Group, Tan XiangDong, Deputy Chairman of the Board of HNA Group and Yuval Golan, CEO of Unique 1 Asia Limited