30.8.2017 Hainan Daily Released an Interview with Mr. Golan about the International Development of Hainan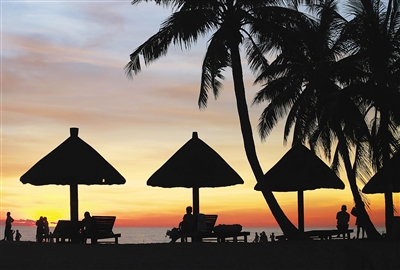 Mr. Golan was interviewed for the newspaper where he shared some ideas and suggestions on the current state of environment and future development of Hainan province.

New "Hainanese" Yuval: Hainan is becoming more and more cosmopolitan


left: Yuval      Right: Mr. Yariv Levin(Minister of Tourism)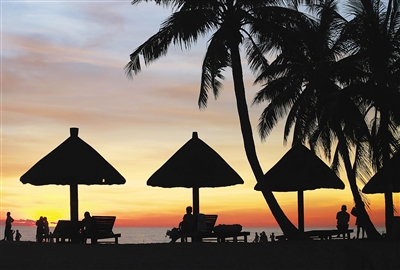 At dusk the Ledong Longmu bay.  Shot by reporter Zhang Jie

Yuval, born in the "80's" an Israeli, who  can speak fluent Chinese and  he was awarded by the Hainan Peoples' Government the "Coconut friendship award" He is an excellent diplomatic envoy and worked in the Israeli embassy  in The Hague, The Netherlands; Yuval is a young entrepreneur and a "wire-puller" who pushes the Hainan towards becoming an international place since  2013. with his help, Haikou and Israel Modi'in-Maccabim-Re'ut city signed an agreement to establish a sister-city relations.
However, he is more willing to call himself an optimist and a "New Hainanese" as he loves this land, he is willing to contribute to the development of tourism, culture and entertainment as he adores the fantastic and charming scenery in Hainan Island.
Yuval's first stop in China was Haikou, In 2012, he came to the fantastic Hainan island and founded "Unique 1 Asia".
"I often ride bicycle and an electric bike to explore the beautiful scenery and delicious foods of Haikou as well as get lost while strolling the quaint old streets of the city." With close contact with Hainan for nearly 6 years, Yuval deeply fell in love with this vitalities land.
"There is a fantastic and charming scenery in Hainan. No matter how many times go to these places such as  Wuzhizhou Island  and 5-finger Mountain , every time you will be amazed by their beauty ."His footprints are all over Hainan. In his opinion, in recent years, Hainan has developed towards an international tourism island steadily. Such development includes setting up of modern infrastructure, tourism complex projects and more so Hainan has unlimited potential for development.
In addition, he also praised Hainan's increasingly international atmosphere. In recent years, with exceptional natural conditions and policy support,  the Miss world Finals, Volvo Regatta, International Marathon and other famous events were held in Hainan. These events set up a friendly platform for Hainan foreign communication and Hainan's reputation gradually spread abroad. "With the continuous improvement of the international language identification system and the supply of tourism products, Hainan will attract more and more "foreign tourists" to come to visit." Yuval sees the enormous potential of Hainan's internationalization.
"The cultural gap can not be ignored"
"Compared with many other cities in China, there is cultural and developmental gap that cannot be ignored in Hainan. Hainan lacks of comprehensive cultural infrastructure and the supply of tourism products is relatively limited." Yuval said, Hainan has fewer platforms in order to  promote cultural products and lacks  facilities such as museums, cultural and art exhibitions.In addition, the entertainment items provided to young consumer groups are insufficient and  there is an urgent need to develop more rich and cost-effective tourism products.
In this regard, Yuval suggested that Hainan should vigorously support the infrastructure construction for culture, tourism and entertainment, promote the development of related fields international enterprises and small-medium-sized enterprises. Through hosting music festivals, culture festivals and others to create atmosphere and inject new vitality into the development of culture.
Yuval also believes that the international language identification system of Hainan tourism related places is still far from perfect and it is also a big pain point in promoting the internationalization process of Hainan. Yuval suggested that Hainan government should increase the English training level for the staff employed in tourism industry, while creating professional English call centre and other platforms for international tourists to provide professional advice, help and other services.
Yuval thinks that Hainan Island should increase the diversity of tourism activities, culture and entertainment options as well as the comprehensiveness of local culture and the unique nature of the material resources on the island. At the same time, the relevant departments should accurately and scientifically analyse the tourism market demand, develop and tap characteristic tourism products, accurately match the needs of different types' tourist groups, and provide personalised products.
Constructing an international friendly tourist destination
How can Hainan match its richness of local attractions to the international tourism by building a road map and action plan? Yuval's company has set-up   and led the "Quality Hunters Project "and invited 11 senior travellers originating from various countries such asCanada, Israel, Japan, Mongolia, Romania, Russia, Serbia, South Korea, Spain, The Netherlands and the United states. The team visited and experienced 34 tourist hot-spots .They were required to complete their investigations by using their mother tongue or English, and to inspect and experience the internationalisation of Hainan's tourism sector.
"According to the senior travellers' experience, we have a deep understanding of the major challenges in the development and internationalisation process of the island's tourism industry, and Yuval's company provided a clear plan, detailed project tasks, so as to give specific recommendationsthough many initiatives to improve the tourism service quality and diversity." Yuval introduced, the next step his company will establish database for the internationalisation of tourism development and help promote Hainan's international level.
Thanks to years of experience in consulting services, Yuval has unique insights into urban development. "Hainan has the conditions and advantages to build an international friendly tourist destination."Yuval suggested that Hainan should be combining the natural and cultural resources and local traditions to create unique tourism products, take targeted promotional strategies, through launching Cultural Tourism Festivals, publicity and recommendation and other forms , carry out "Mixed" combination marketing, and thus enhance the international visibility of Hainan Island.
"In addition, the government should attach importance to the development of international enterprises in tourism, culture and other fields, and give full play to the resource advantages of international enterprises and enhance their service levels." Yuval believes that International enterprises have incomparable advantages and they are familiar with international tourism island and relevant marketing characteristics which would attract foreign visitors. The government should be working together with the international enterprises in Hainan in order toto promote exchanges and cooperation. Trough the establishment of overseas tourism ambassadors, Hainan can build a year all-round, international market.


Read Original Article (Chinese): click here.