Unique 1 Asia's CEO Awarded by Hainan People's Government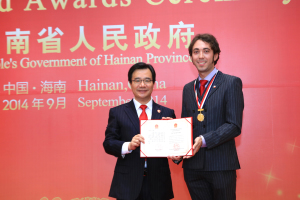 Hainan Province People's Government Awarded Unique 1 Asia CEO's, Mr. Yuval Golan the highest award given to foreigners, the Coconut Island Award. The Coconut Award is a prize given once in two years to Foreign Experts which have contributed to the development of China and Hainan Province.
There are two category levels: Friendship Award and Commemorative Award and Mr. Golan was awarded Friendship Award which is the highest of the two. The ceremony took place during the National Holiday Event in which the highest leadership of the province attended.